The Tree Who Walked Through Time ~ A Tree Identification Story
The Tree Who Walked Through Time – A Tree Identification Story is a children's picture book written by Maureen Carroll and lavishly illustrated by 18 Kansas artists who created realistic and fantastical replicas of regional trees. This book helps children identify different species of trees that grow in Kansas and the Midwest.
This is a flip book, a two-way tale, in that there are two books in one, with two front covers and no end. The Tree Who Walked Through Time is a story of an old Cottonwood tree who takes a stroll down memory lane, exploring the different trees that grow around him. The Cottonwood, named Prairie Prince, has a conversation with a boy who has fallen asleep under his branches.
Flip the book over to read The Boy Whose Branches Reached the Stars. This is the story of a boy named Peter who is unhappy being small and longs to be tall like a tree. He goes on a stroll through the woods, exploring the different trees he might like to be, and eventually falls asleep underneath the old Cottonwood tree.
Each artist contributed at least one tree to the book. As luck would have it, no two artists chose the same species! The artists' different styles and mediums highlight the unique qualities of each tree, helping the reader learn to distinguish the various species shown. Each contributing artist had a particular inspiration for selecting their tree. Along with their biographies you'll find in the book a brief description of why they chose the tree selected.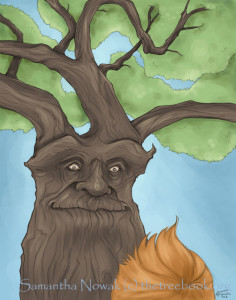 Some of the contributing artists are well known, others yet to be discovered: Judy Graversen-Algaier, Lauretta Hendricks Backus, Kris Barlow, Shelley Barnhill, Maureen Carroll, Jack Cleveland, Lisa Grossman, Stan Herd, Rachel McLaughlin, Paul Hotvedt, Steve Howard, Erok Johanssen, Cathy Martin, Samantha Nowak, Bobbie Powell, Ardys Ramberg, Sara L. Taliaferro, and Libby Tempero.